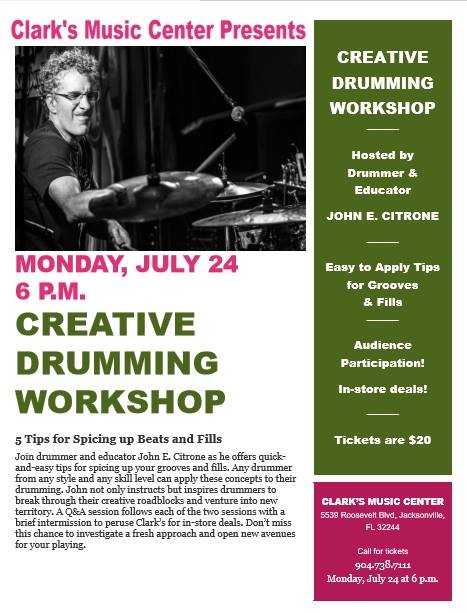 I had the great pleasure of attending local drumming legend, John Citrone's Creative Drumming Workshop at Clark's Music Center on July 24th. (I know, I know, this post is little late, doh…)
Always so much fun to hang out with Clark and Joseph in the store for these events. Lots of drum talk and banter sprinkled with "That's What She Said" Jokes ha….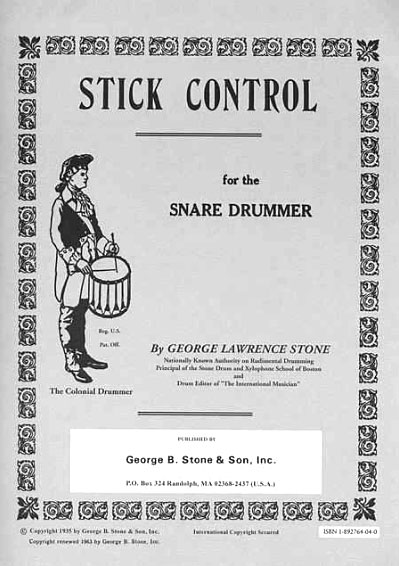 John gave an excellent clinic on 5 Tips For Spicing Up Beats and Fills with the drum set. He went through various scenarios to help you come up with new ideas for fills and break out of the standard roll around the toms. The most intriguing and most underused tip from him was to choose not to play. Yes, not to play for a fill. Not every fill of course, but as an accent tool to add interest and provide the unexpected sprinkled throughout your playing.
I think as drummers we always want to be playing and that not playing during a fill may seem anti-climactic but it can be done with elegance and grace and really add to the music. My most immediate example of this in RUSH's YYZ where there are a myriad of fills during the climactic part of the piece and Peart yields to Geddy at 1:44 in the track. Albeit, not a perfect example but makes the point. You can check out YYZ here…
John is energetic and an excellent teacher of technique and I always learn something from him. He also recommended a great book for any drummer, and a must have in your collection; Stick Control by George Lawrence Stone. Published in 1935, it still has merit today with the drum set. He offers a myriad of permutations for sticking and exercises to increase your control and ability to play clean and even. I highly recommend picking one up if you do not have it in your collection and practicing through the exercises.
Of course, the real key to becoming a better drummer is to work through the exercises starting slowly and progressively getting faster. I used to gauge my improvement by keeping a journal on an exercise and noting the speed on the metronome. Gradually I was able to speed up my playing, especially in my left hand and even my feet. Yes, you can apply this to the bass drum(s) as well. A great book.
Here are some pics from the clinic. Look forward to future clinics at Clark's.
Rich