The Early Years (1969-1982)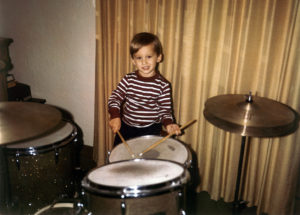 I think I heard my Dad Pat Geer drumming while in my mothers womb. At least that is why I think I have been so enamored with the drum set all of my life. At an early age I was introduced to my Dad's Sonor trap set he bought from a pawn shop to use in his band the Malibu's in the early 60s. As you can see in the pic to the right I was trained in traditional grip at an early age by my father. I currently use matched grip but can switch over if needed for certain works. I got a lot of good practice on that kit and as time progressed it grew in size with various additions over the years.
The Middle Years (1982-1992)
Moving on, I really kicked drumming into High Geer (ha) in the mid 80s when I was listening to current rock songs on the radio and I would start to play along to them. Working daily after school to figure out the drum parts with repetitious vigor. (Thank you to my patient, tolerant and loving mother Betty for letting me do that for hours at time.) Drumming can be annoying to people from the other side of the skins, especially with continual repetition as it tends to grate at your brain. I do not recall her ever once telling me to stop, ever. She is wonderful.
My favorite groups at that time were The Police, Yes, Genesis, Journey, Chicago and even Duran Duran to name a few. The complexities of the songs weren't that technical but were new to me and took me a while to hash out. That was the time of vinyl and cassettes and things had a more manual feel to them when you had to rewind and start over or reset the record player. Something today's youth are immune to.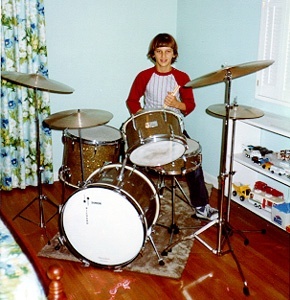 I started junior high school in 1983 and that is when things really began to change. I joined the band on the urging of my Father as a drummer. For some reason my teacher Steve Welch also wanted me to play the trumpet after running through a battery of tests with instruments and mouthpieces. I did that briefly but it didn't take ha… One day in band class my buddy Scott Fowler (who in his own right is a phenomenal drummer and inspiration to me and regret that I haven't seen him a while) asked me if I had heard the song Tom Sawyer by RUSH. To his dismay I had not. He brought a cassette in the next day of Moving Pictures and that was it… RUSH fan for life! At the time they weren't getting huge airplay so my parents would buy me other RUSH albums when they could. I think I even got a few from the old Colombia House where you got a dozen for a penny deal in the mail – but you must buy so many more at full price later, but that is another story.
I started listening to RUSH and Neil Peart all the time and fell in love with the style and so began my journey of starting to play along and try to replicate his work. During that time most of the super technical drummers were in the Jazz genre like Buddy Rich and Max Roach. If you haven't heard the Rich vs. Roach solos, check it out now…. good stuff there. I listened to and played jazz music some in junior high but never fell in love with it. I tried, I really did and have great respect for Jazz drummers. They do amazing things. I did admire the technicality and intricacies of the style and did study further many years later to improve my abilities. My musical focus has remained in the progressive rock area most all of my life as it does today listening to other drummers like Stewart Copeland, Bill Bruford, Carl Palmer, Phil Collins and Steve Smith. But I digress…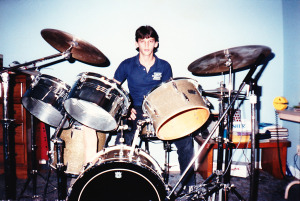 As I kept growing up my main passion was RUSH and I would get new albums and learn those new parts, a very exciting time when a new album was released. I fondly remember my parent's buying me Grace Under Pressure as a surprise for no reason other than love. I was so excited, even though my younger Sister wasn't thrilled that I got a gift and she and my younger Brother did not. 🙂
Yada Yada Yada…. I know, most drummers love Neil Peart, he is my main influence and you may hear some homages to his work in my style. Neil along with other drummers for the 80s have helped me shape a sound that I hope is unique to me and my works. Continuing on through Junior High and then into High School… practice, practice practice.
The Latter Years (1992-2004)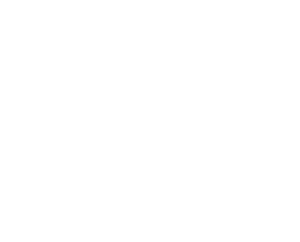 As my life moved forward joining the Air Force in 1988 and running a short stint with the drum and bugle corps in basic training I mainly played to keep in shape and for fun. My aspirations at that time were to fly and I pursued a military career in the Air National Guard. Around 1992 my friend Roger Dailey from Ed White High School asked me while attending the then FCCJ in Jacksonville if I was interested in playing with him and Joey Kerr in his band Lazy Eye. I listened to his sample and said what the heck. I have always been a modest drummer and not into it for recognition. We met weekly in what I refer to fondly as the Uni-Bomber Shed in the West side of Jacksonville, Florida.
I would describe Lazy Eye as a hybrid of rock, alternative and progressive rocks with a touch of anger in the latter years. We practiced and played at local venues like The Crab Pot, Spike's Dog House and Shades of Orange Park where I was fortunate to have one of my solos recorded for posterity. I did them for fun and to fill dead space but sometimes they came out great. I remember people standing on pool tables cheering and clapping. You can even hear my high school sweetheart Michelle Obi scream in the background of the recording. Great times.
I recorded a couple of albums with Lazy Eye in a home studio similar to mine and they reached a moderate local level of fame. My duration was short lived as I worked part time, went to school full time, was in the Air National Guard and worked weekends frequently. I wasn't a huge party person and drinker and usually had to be at work at 6 a.m on weekend mornings after a gig. This didn't sit well with the band so after a cliche indent at a show in Jacksonville Beach we decide it was best for us to go separate ways. My buddy Matt Mann took over as the new drummer. About a year later I would record with them one more time after an incident that I still regret to this day with Matt and Roger. I will spare the details but things got bad fast. Soon after that recording Lazy Eye was dead, never to be resurrected. Roger said he hated what he had written but I fondly remember enjoying the songs and creating drum parts for them.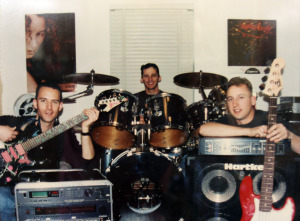 Over the next many years I played off and on with various local musicians with no fame in mind. In the early 2000's I stumbled on an ad from Brett Stevens and Joe Lipiec at the George's Music in Jax Beach. They were looking for someone with similar interest in rock music and RUSH. I gave them a call and we started to jam together. That is when Brett thought up the idea to record a few tracks at the house where I was living in Neptune Beach. (Much to the chagrin of my neighbors… apologies). The result was the album Oxymoronic that you can hear on this page.

It included one original named Oxymoronic and two RUSH covers YYZ and La Villa Strangiato that I am quite proud of as an homage to Peart and RUSH. I know covers are a great tribute to musicians and quite necessary when trying to make it as a party or club band but they aren't exactly my favorite thing or most satisfying drumming to do. I feel that the creation of that drummer is a unique thing and any attempt to cover it should be as close to original as possible with no embellishments or enhancements out of respect to the musician. Go figure.
Onward we go. (I know, I am wrapping up this up soon).
The Anders Years (2004 – 2014)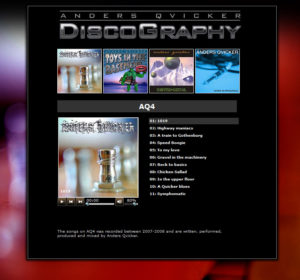 Then comes the internet and it will forever change my experience with music and introduce me into the world of online digital collaboration – the coolest thing since sliced bread. During the last 10 years of my career in the Air Force I was drawn toward the field of graphic design. I would call it an enjoyable interest and one that helped me and my Father perpetuate Geer Services, Inc. for many years in web development. In all honesty I am better drummer than designer but it has been great helping run a business.
During that time I was always eager to learn new things about graphics. I bought tons of books, took many online tutorials and constantly tried to refine my style. One day while searching for Photoshop techniques online I found a site run by Anders Qvicker in Sweden. He offered free tutorials and tips on creating awesome Photoshop effects. I studied and used a few of his ideas in my works. Whilst learning new things I found a link on his site that said listen to my music or something to that effect. I clicked it and WOW, I thought the music was awesome. Progressive style and technical instrumentals with plenty of juicy parts for some awesome drumming. Anders writes in his own drum parts with the computer but I got to thinking, hmmm…. I wonder how this would sound with an acoustic kit. So after to listening to his songs for many days I got the nerve up to ask him. My biggest fear was causing offense in the sense that he would think I didn't like the drumming. Not true. I did enjoy it but thought it would be a neat experiment to create my own parts based on his starting rhythms and adding my embellishments.
I finally sent him an email and asked if he ever thought about adding in acoustic drums to his music and he said he had not. I asked that if I were able to record my drums effectively would he want to try the tracks mixed in with his music. He agreed and so began this adventure. Having never recorded myself I wrote a check that I had to cash (so to speak) so I went out and purchased a Roland VS-2000CD, some SHURE mics, overheads and cables and spent a couple of weeks sorting it out. I would say the result was less than stellar from a quality perspective but Anders was able to work his magic and at least make them sound decent along with his work. You can hear them here if interested. Both Anders and I got busy with our Web Development and design work and never found the time to record together. He has a plethora of songs that I would love to record parts to, we shall see what happens in the future. 🙂
I recorded the three songs for him and during that time I learned that my double bass skills weren't up to snuff by my standards. I then began working on my skills more as I moved further into following Mike Portnoy's work with Dream Theater.
My 2 Cents: I must say that my respect and attention to Dream Theater waned after Mike left, even with Mike Mangini at the helm. I know that we will never know the complete truth but I sympathize with Mike in his desire to take a break from the band to regroup and re-energize. Being a huge fan of RUSH I have always found a great comfort and respect for the band as they let Neil recover and rebuild after his wife and daughter's deaths. Even though RUSH's style has changed over the years, the comradery with the guys and respect for each other only solidified my love for the band. Additionally, my wife and I were discussing this one day and she mentioned that about Steve Smith of Journey. I said what? I know Steve Perry had left and I didn't really follow them much after that. I was pleasantly surprised and somewhat relieved to know that Smith did not choose to continue on with Journey without Perry. So much so that I sent Smith a message about it and I truly hope he is able to read it. Like I told my wife I think Smith got better after Journey as I was reminded that he also studied under Freddie Gruber, the famous drum teacher that reshaped Neil Peart's drum style as his career progressed. RICH
There are tons of incredible drummers in the world and I am just excited that I have been able to grasp the skills of Peart, Portnoy, Copeland and many others, if only at a moderate level.
The Now Years (2014 And Beyond…)
So…. that brings us to now 2014. I did not record much after The Anders Years as I was dependent on great music to work with and hadn't made any further contacts. I focused on running Geer Services, Inc. with my Father and merely kept the drums up as a hobby and working to improve my double bass drumming skills. I can't believe that it has been that long, time flies when you are having fun I suppose.
At some point during mid 2014 I was getting the itch so to speak after seeing Terry Bozzio at Clark's Music Center in Jacksonville, Florida. Clark was awesome to get me and my guests VIP Passes and we were able to meet Bozzio and see his small kit up close. His technicality and skills are phenomenal and not easily replicated but it gave me a little spark that I needed to get back to business. I was also continually listening to awesome works over the past two years by RUSH, Dream Theater (Portnoy Days), Porcupine Tree and my new favorite O.S.I. I truly enjoy that progressive sound and even more so when Gavin Harrison started to record tracks for O.S.I. During that time I read this about O.S.I in a bio and it got me thinking again, am I not using my talent to the best of my ability?
The collaboration may be considered a studio project, as its members and contributors write and track most of their material independently, sharing and developing tracks long-distance, only coming together at the end of the process for mixing and additional tracking.
Should I be playing more? Whether to just keep it up and in shape or possibly work with other artists. A question that lingered for a few months and then by the Grace of God I believe he has led me back to my roots so to speak. To the one thing that I have known my entire life and have always reverted back to in times of joy and even sadness in a cathartic way. So, after many days of thoughts, talking with God and thinking forward in November of 2014 I decided to improve my home recording capabilities, sound proof the room somewhat and start to market myself on the web and see what I can do. I found a great site called Kompoz that I started to offer drum recording options to other musicians.
I have the majority of my new equipment now and off to the races. You can read about the progress in my blog if so inclined. The process has been extremely challenging and exciting. I can understand better why music engineering is a tough gig. I am just recording the drum set so I know that recording complete bands has to be incredibly difficult for an engineer.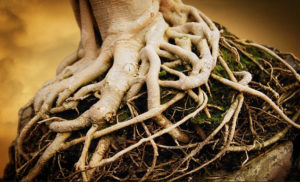 No matter what happens with my future and drumming and can say that I have not been more excited and anticipatory since early in my life. I am going back to my roots and I am anxious to see what happens and if I can offer my talent to help other musicians. I also plan to record many drum ideas that I have had in my head for years and arrange them to music if possible. Thank you Jesus for guiding me back to my roots. I hope to not disappoint.